Building A New Family Legacy
Think you're too tired, too old or it's too late to
make your life better?
Meet George and Caroline –
Two amazing people full of energy and life.
This morning, they did what most of us do on a Sunday
morning – not!
They got up at 5:00 and ran with friends through town, about
7 or 8 miles.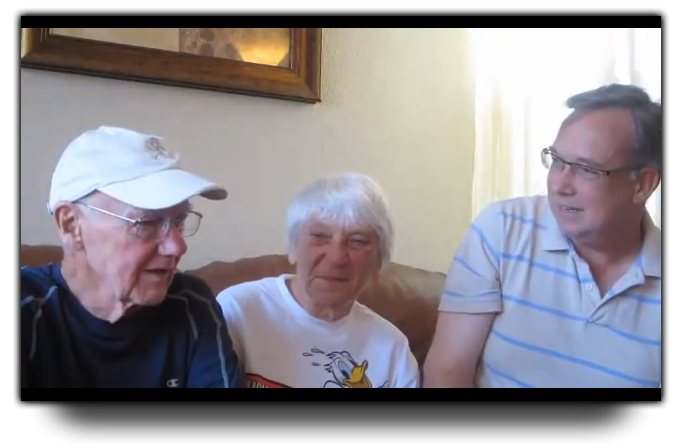 How about running a half marathon last week and coming in 2nd
(George) and 1st place (Caroline)?
Oh so what, it's only a half, whoop de doo.
Think again friends…
Think YOU could do it?
How about if you were 79 and 76 years old, hummmm???
Say what??
Yes, it is a big deal and I am blessed to call them my
incredible father and mother in law.
By the way, the half marathon is a far cry from their usual
pace – full marathons are the norm in this house.
While others may be snuggled soundly in bed or hunkered
down in front of the tube, the Macks are running
full steam ahead.
They've done them all… NY, Boston, Chicago, Disney and so
many in between.
On any other day, you'd catch them riding their bikes –
recumbent, tandem and regular any other they can get their hands and bums on.
Or working out in their home gym, gardening or on trekking
across the country RV-ing.
Oh, I almost forgot
about their bike ride across the US about 10 years ago.
Yes, from the Pacific to the Atlantic in 7 weeks.
When they finally arrived at the Atlantic Ocean, Caroline
wanted to throw her bike into it…
She was exhausted and had her fill of life on the road.
But one thing Caroline never did…
She never, ever gave up.
Neither did George, her faithful husband, partner
in life and healthy lifestyle, celebrating his 80th birthday next
year.
George carried on through cancer treatment and heart
surgery.
Caroline duked it out a few rounds with her own health
issues.
But neither of them ever, ever gave up.
So, the next time you are about to make an excuse for not
going after something you've always wanted to do, remember George and Caroline.
No bull no excuses –
If they can go after their goals, moving through adversity
no matter what roadblocks may pop up along the way, (and they always do) there are no
excuses.
Oh, they also have a good friend/running and biking partner,
Jim who lost a leg…
But he's another blog post.
He never gave up either.
If they can do it, we all can.
Is it easy? Nothing in life worth
having is easy all the time.
Remember saving up for something when you were a kid

and how you were willing to mow lawns, deliver newspapers,

baby sit or pull weeds – ANYTHING!
WHY?
…Because it was so important that it was worth the
struggle just to have it?
We are passionate about what we
consider valuable.
…something that gets you up in
the morning with a spring in your step.
Overcoming the obstacles,
pressing on to the finish line toward the prize…
…whatever you may consider a
worthy goal.
It doesn't matter what you're
after – just go for it!